Do you love wallpaper, but can never find a pattern you like? Do you have photos you love but can't think of the best way to display them? Do you have a space that needs a new, fresh look?
Here at Rock Solid Designs, we have the answer – custom designed and printed wallpaper!
When The Scottish National Outdoor Centre, Glenmore Lodge decided to update their reception area they knew they needed something that caught the eye, reflected the company's ethos and most of all, looked amazing! We worked with them to create fantastic, one off pieces, custom designed and printed for their space. We even worked around the existing structural features of the room, turning two porthole windows into a compass and a clock, fully integrating them into the scene. The finished work not only featured eye catching Scottish scenery but included high impact text highlighting the many, many areas of outstanding beauty to be found in Scotland.
As can be seen from the pictures below, the end product completely transforms the space, from a run of the mill office, to an indoor beauty spot.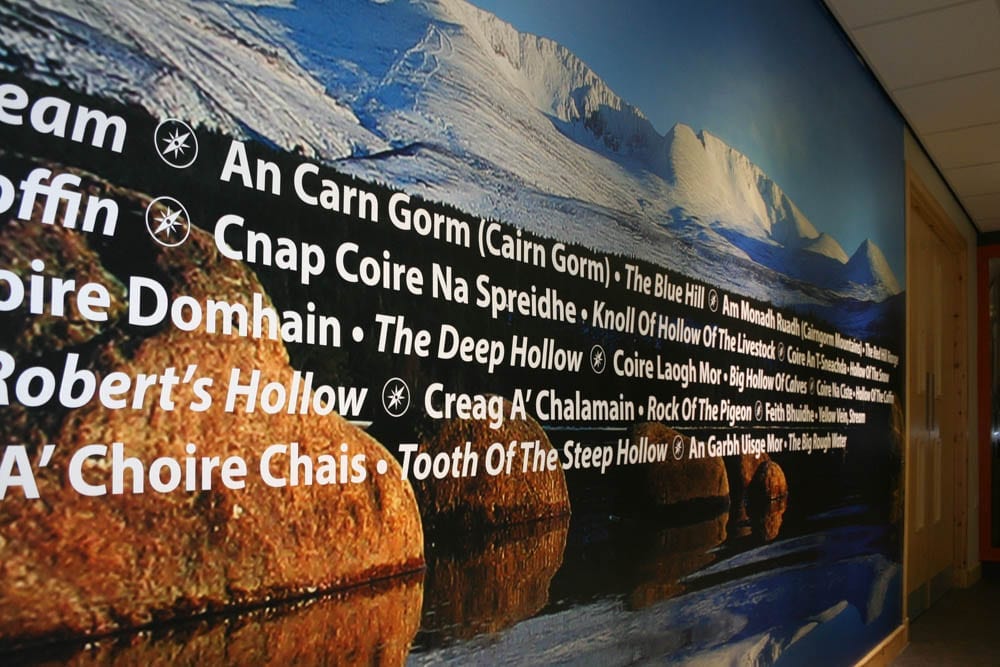 It's not only offices that can benefit from this new innovation in wallpaper, and it's not only photographs that can be used. At Rock Solid Designs we can use a variety of medium to create custom pieces… photographs, patterns, children's drawings, basically anything that inspires you, we can use as artwork for wallpaper for your home or office. Do you have a piece of furniture or fabric that you want to build the room around? Bring us a picture and we can work with you to design wallpaper to match. We can even create wallpaper with a variety of different textures to suit your needs.
Custom wallpaper is growing massively in popularity – who wouldn't want their home or office to be unique? At Rock Solid Designs we can help you to create something beautiful and custom whilst at the same time cost effective. Let us help you to transform your home or office, simply by changing one wall (or all walls and ceilings for the ambitious among you)!
Rock Solid Design are a full service design agency as well as custom designed wallpaper we also offer graphic design , web design, in house digital print and now also high quality promotional videos.