Every website needs a home, and with our hosting packages yours will have the equivalent of a website penthouse to live in. By entrusting us with your website, hosting and domain registration, you can ensure that your website launch goes as smoothly as possible.
To order hosting or buy domain names please go to Rock Solid Hosting.
What Is Hosting?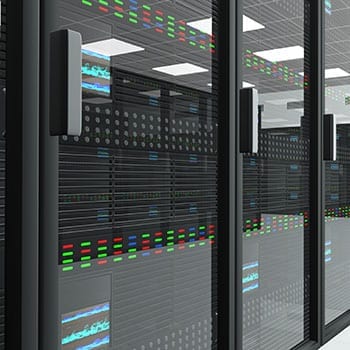 When you create a website you need a computer to host it on, this computer needs to be permanently on, be really robust and have a superfast connection to the internet. These computers are called servers, and are basically huge cabinets filled with circuitry and hard drives. Not all hosting is equal though and we entrust our websites to a reputable server provider who we are pleased to say offer an excellent and reliable service.
UK Based Servers
With two UK based datacentres, one on either side of Reading, Berkshire, with state-of-the-art facilities, top-quality connectivity and manned 24/7 . You can be sure that your website is in safe hands.
Both data centres have independent dedicated gigabit fibre uplinks which take different routes to central London, one into Telehouse North and one into Telehouse East. From there the connections are peered with all the major UK backbones.
Carbon Neutral Hosting
In 2006 our hosting partner became the first UK provider to become Carbon Neutral, they take they're environmental responsibilities very seriously and are now one of the few UK server providers to be certified to the ISO 14001:2004 Environmental Management System.
 99.995% Uptime
The last thing you need is your website to be unavailable, and all our servers have a 99.995% uptime, this means you'll never lose valuable customers or sales.
Email Accounts
All our hosting packages come with email, so you can have email addresses at your own domain like info@yourdomain.com. This means you can convey a professional image to your clients.
Domain Registration
Every website also needs a domain which is the address you type in to get there. If you haven't already registered the domain name of your choice, we can handle this for you as well.